Rhonda L Johnson is a native Washingtonian and resident from the Nation's Capital, Washington, DC. She is the CEO | Author | Certified Peer Specialist Consultant for the Now Hope 2 Reality, LLC, Certified Business and Small Business Enterprise Company.
Compelled by societies lack of knowledge, stigma, and misunderstandings regarding what are Co-Occurring Disorders, Miss Johnson has become an advocate for change and transformation to share her story of hope, her triumphs, and challenges, along with her experiences living life with depression, addictions, and suicidal ideations.



BOOKS
Miss Johnson has published four books entitled:
Memoirs Of An Addict: Fact or Fiction
Mary/Pumpkin Recovery Girl
What About the Children? The Neuroplasticity, Implicit Bias Theory
The H.O.P.E. INFLUENCER'S Diary
Miss Johnson's books begin the uncomfortable conversations regarding the affects and effects for the unacknowledged (risk factors) and behavioral health (root causes) that refute the question…WHY.
The mission of her books are to educate the person and society with hope for those suffering in silence from stigma and or shame. The goal of her literary work is to empower the reader with a better understanding to the challenges, along with what the signs and the symptoms of behavioral health disorders look like. Each book implements education, hope and solutions that move beyond in-patient and out-patient treatment care, to sustainability living a normal life beyond addictions and mental health disorders for children and adults.
Miss Johnson's books can be utilize for cultural competency and strategy building for staff development, group webinars and in- person workshops in regard to innovative and integrative solutions with thinking-outside-the-box engagement
DC WALK 4 RECOVERY
In 2018 Miss Johnson became the visionary, founder, and lead organizer for the walk event entitled: DC Walk 4 ReCovery that took place on the Washington, DC National Mall. This free family event was located across the street from the African American Cultural Museum and the Washington Monument in 2018 & 2019. Invited guests and thousands of visitors on the National Mall were able to receive and celebrate what recovery looks like with resource information, and peer collaborations that included music and presenters.
MEDIA ATTENTION
The DC Walk 4 ReCovery event received local and national media attention, including an article from the Washington Post. With the support of the committee members, the contributors, the participants, vendors and the many volunteers, along with great weather, the event was amazing. View the DC Walk 4 ReCovery in pictures here.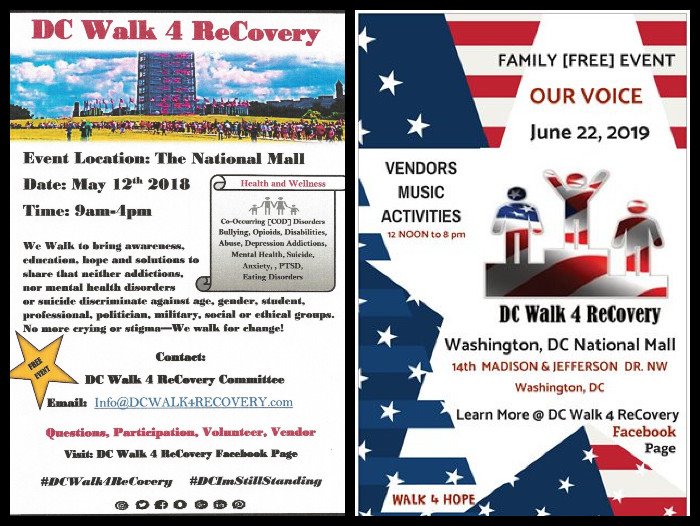 Read the complete Washington Post Article here

PEER SOLUTIONS LEADERSHIP SUMMIT 2022
In 2022 Miss Johnson organized a virtual event entitled: Peer Solutions, Leadership Summit, for local, national and global peer leaders to share their experiences, and their voice of expertise regarding education, hope and solutions how society could move forward living life after the COVID-19 pandemic, Co-Occurring Disorders, the Opioid Crisis, suicide, peer employment, and the many biases that the world is facing today. The event registered over 601 attendees and over 2000 + persons visited the Eventbrite page to show their interest and support for the peer support movement.
13th Annual International Conference on Stigma
On November 17th 2022, Miss Johnson was the moderator for the 13th Annual International Conference on Stigma at the Howard's University Blackburn Center. The topic discussed was entailed Women Celebrating Life Through the Storm from a Peer's Perspective.
ADVOCACY
Miss Johnson is a Certified Peer Specialist, a CCAR Recovery Coach, a former  Washington, DC Department of Health  Peer Lay Leader, and  one of the original Washington, DC Ward 8 Neighborhood Family  Champions, for the Early Childhood Innovative Network (ECIN) and the Far Southeast Family Strengthening Collaborative.
MEMBERSHIP  & APPOINTED BOARDS 
2018 U.S. Attorney's Office for the District of Columbia Heroin & Opioid Working Group.

2019

Appointed to the Washington, DC Mayor's Opioid Fatality Review Board.

2020

DOH Rapid Peer Lay Leader 

2021

 Department of Behavioral Health Integrational Stakeholder Advisory Group. 
2022  The Opioid Solutions Working Group   

Mayor's Opioid Fatality Review Board Report 
Read Miss Johnson's   2020 Presentation in the Opioid Fatality Review Board  FIRST Annual  Report here 

HOPE ~ SURVIVING SPIRIT AWARD 2022
Miss Johnson's passion is to share the message to those who feel lost, hurt and who may battle depression, grief, anxieties, trauma, and or addictions to know this; there is help, hope and treatment out there. Never be ashamed of your journey. For God can use your story to help others understand WHY.
THE WALK CONTINUES 2023