The DC Walk 4 ReCovery Campaign conducted a survey for the BEST word that represents recovery and the theme for the Washington, DC's forthcoming

DC Walk 4 ReCovery

that is scheduled for Saturday July 25th 2020 on the National Mall.
There were a total of

135 persons

who completed the survey. To our surprise not only did participates from Washington DC complete the survey but there were persons from different parts of the United States with a few from other countries who voted.
The three choices on the survey were the following:

1. Equality
2. Transformation
3. Equity
DRUM ROLL PLEASE!
AND THE

WINNER

FOR BEST WORD THAT REPRESENTS RECOVERY AND THE 2020 DC Walk 4 ReCovery
THEME IS… S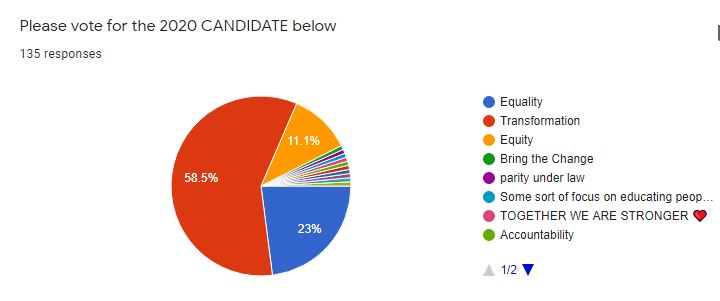 TRANSFORMATION
is the
WINNER!!!!!!
THE PEOPLE HAVE SPOKEN
Walk With Us Saturday
July25th 2020



Learn more how {YOU} can




join this




monumental event


HERE